THE RIDING SCHOOL AT JP TRAINING
Many of our successful show riders have taken their first step on our wonderful school horses and ponies. We have a mature and well established program that works for riders of all ages and abilities, and a very successful summer camp program for young riders.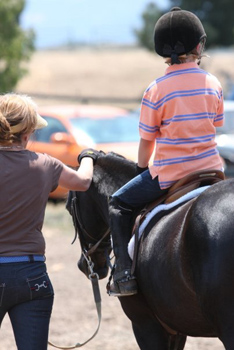 In 1985 Jan became involved in the School Horse program at Willow Trees Farm and later developed her own approach that is proven to be very successful. She has maintained a School Horse program every since and takes an active role in all students training and progress.
The goal of the lesson program is to introduce young riders to the sport and help adult riders rediscover the fun of spending time on horseback in a safe and supportive environment. It is set up to offer private and small group lessons during the day and evening, Tuesday through Sunday. Riders are taught general horsemanship skills along with basic English hunt seat, progressing to jumping as skill and confidence increases. Horses and riders are paired based on age, experience and size and group lessons are designed to teach riders of similar expertise.